YOOO DOODS , BEEN MEANING TO PUT OUT THIS INTERVIEW WITH
THIS AMAZING NEW TALENT COMING OUT OF THE NETHERLANDS
YOU MOST LIKELY ALL READY KNOW HIM SO WITHOUT FURTHER ADUE
HERE IS THE INTERVIEW WITH René van Munster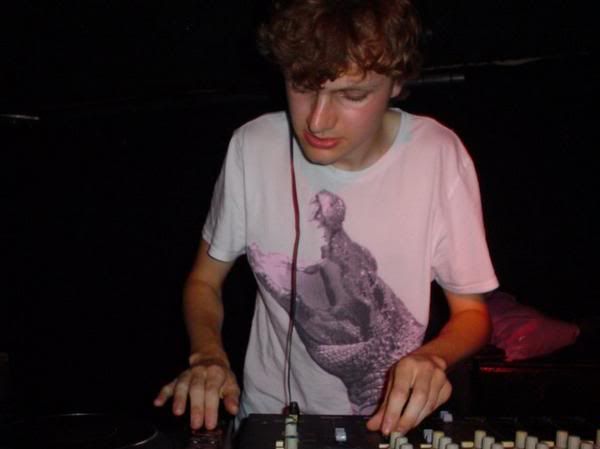 yo man first , how old are you how where you from
tell us a little bit about about your self
I'm 18 years old and I am from a small town in the north of Holland called Haren. I was born in Amsterdam, both my parents are flutists and my brother is a jazz guitarist so you could say I was raised in a musical family. I play the cello and a little bit of jazz saxophone, I'm a first year classical cello student in the conservatoire in Groningen. And of course I do producing and a little bit of DJing.
Tell us a little bit more about the netherlands
is it pimp? how are the partys/ scene like over there?
Groningen, the nearest city from where I live, is a really great place to go out at night, lots of fun people and all the clubs stay open until everyone goes home (which is mostly around 7 am, unlike Amsterdam, where most clubs close at 3 am). The only problem is, the house music in most clubs is horrible. I have seen too few good DJ's and heard too much mainstream rubbish being played out, so that's kind of a bummer. But on the other side that's a motivation for me to give it a little twist, I'm planning on doing some good gigs here in a few clubs and play out some stuff they've probably never heard before so that will be exciting.
How long have you been into production, and djing
what was the first software/hardware you use ? what do you use
now?
I've been producing house music for over a year now, starting with Reason 3.0 and eventually switching to Reason 4.0 with rewire to Cubase. At the moment it works fine for me, don't use any hardware right now. I started really doing the DJ business not too long ago, bought a cheap little set and started practicing, trying to get a couple of gigs going at the moment.
how would you describe your sound to someone who hasn't
heard your music before?
That's a hard one. Mostly I just say I produce kind of underground house music, or tech-house, fidget house, whatever people like to call it. I'm not a big fan of giving everything a tag (which is kind of a Dutch habit).
for those who dont know , tell us a bit about bootlickers
how did that start, how did you meet up with brabe
what made you guys decide to collaborate together?
Well actually Brabe's been a friend of mine for a couple of years now, we met up in the youth orchestra of the netherlands (in which we still are both playing), me playing cello, and Brabe playing viola, and one day Brabe showed me some of switch/solid groove and jesse rose's tracks that he had stumbled upon. We were both into that stuff immediately, and after a couple of months we both started fiddling around with Reason for ourselves. After lots and lots of experimenting we both came up with a couple of tracks, which got great enthusiasm from a couple of people, and which led to our first signing with Down South Music, South Africa. We never thought of it to produce stuff together though, so one day I travelled to Amsterdam and we teamed up and thus 'the wasp' and 'fistfunk' were born. Now, with less time to travel and such, we're producing yet some new bootlickers material, but this time sending it over to each other and editing until we're satisfied (which is a rare occassion).
What other projects do you currently have in the works?
I've got a lot of releases coming up with different labels, like Bart B More's Secure Rec., Two Tracker, and remixes for TFE and Secure Rec., and like I said I'm working on Bootlickers material, but after that my next step will be integrating my cello into my production. I recorded some cello bits in the studio a couple of days ago, and I'm planning to produce a couple of tracks and see where I can go from there. I'm also thinking about doing a live club act with cello/laptop sort of line-up. We'll see what the future brings.
any new artists/ producers we should keep an eye out for
this summer?!
Well I wouldn't call him that new, but at the moment Oliver $ is really one if my big favourites, his remixes are tight and I just can't get enough of his Hotflash series. Also watch Brabe he's working like mad and coming up with a couple of really phat ideas in his music. also Style of Eye is also one to watch, his last couple of releases were insane, and his upcoming release on Front Room is pretty mad as well. Looking forward to hearing more from him.
BONUS
René was kind enough to leave us with these goodies to share with you guys =]
summer to come remix
you like ep minimix